An exicting and stylish new proste vibrator from Mantric, the P-Spot Probe is ergonomically designed with the intention of smoothly slipping into your body and hitting the sweet p-spot.
Mantric P-Spot Rechargeable Probe Vibrator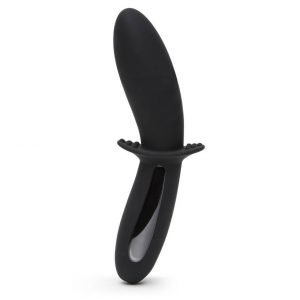 >>Shop for the Mantric P-Spot Probe at LoveHoney<<
Mantric are a sex toy brand fast earning a reputation for making stylish, high quality, and innovative male sex toys. This prostate vibrator shows they can hit the mark in that highly competitive category too.
The P-Spot probe is a powerful vibrating prostate toy with 7 modes that deliver highly intense waves of pleasure from the stylish and smooth angled matte black silicone shaft.
The handle not only has ridges for added pleasure, it features a LED dsiplay to let you know which mode you are on.
Features a travellock so it doesn't go off through customs.
The Pros of the Mantric P-Spot Probe
Stylish, powerful, innovative, and affordable
LED display, rechargeable, waterproof, has a travel lock
Final Review Verdict and Rating
One of the most stylish, innovative, and knee tremblingly powerful prostate vibrators in this price range. The perfect prostate toy for beginners, and a joy for more advanced users too. 5/5