The Autoblow was marketed as the world's first blowjob machine. The second version made some major changes. Is it still the best automatic blowjob toy for men?
Autoblow 2 Blowjob Machine for Men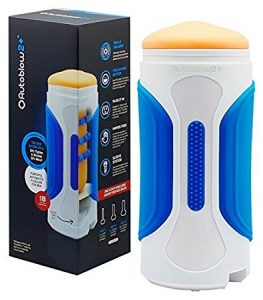 >>Shop for the Autoblow 2 at RoboticBlowjob<<
The Autoblow was one of the most famous male sex toys of recent years, looking to give even the Fleshlight a run for its money as the most popular masturbator. It was billed as automatic blowjob machine. Many customers raved about it online, for others it didn't hit the mark at all. This second version attempts to redress some of the faults with the original Autoblow.
The biggest change is that it's much easier to clean now it has insertable sleeves that can be swapped around. The device also comes in 3 different sizes, making it much more likely you're going to get a good feel with the sleeve wrapped around your cock.
It's still a little noisy, but it's a big improvement over the first Autoblow.
Pros of the Autoblow 2
Insertable sleeves for variety and ease of cleaning
Still a good toy for sexy toy fans of blowjobs
Cons of the Autoblow 2
Final Review Verdict and Rating
The Autoblow 2 makes some welcome improvements over the original, and there still isn't a better automatic blowjob machine in this price range. 4/5