Advanced automatic male masturbator that also synchs with VR porn and for remote sex.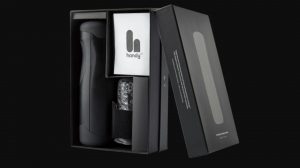 The Handy is one of the most well received new male sex toys of the last couple of years. Particularly well reviewed for its performance as a VR porn toy, the Handy is also a highly rated and satisfying automatic male masturbator for straightforward solo masturbation. The advanced haptic technology also allows for sex with webcam girls or other remote sex partners.
The first thing that sets apart the Handy from most of its rivals, is the variety of settings you can play around with for an almost endless variety of fun. The toy delivers from 0-10 strokes per second, and varieties of up to 4.5″ (11cm) each stroke, with a diameter of the sleeve from 0.5-3″ (1-7cm).
Secondly, you can use 'scripts' to pre-program a masturbation session. What's really exciting about this is that these scripts can be synched with any porn videos including virtual reality porn. You can download scripts (free or purchased) for thousands of videos, both 2D and VR. Or you can create your own scripts to synch with your favorite videos, or for simply a pre-determined masturbation session.
The Handy is a Norwegian produced male sex toy, with the sleek and style look and feel you'd expect from a Scandinavian designed masturbator. The actual masturbation sleeve is attached to the main body of the toy, which means that it's probably the easiest high-tech male sex toy to clean.
Shop for The Handy at The Handy Store
Pros of The Handy Male Masturbator
Advanced haptic tech for the best interactive and VR porn toy
Superior design from a Scandinavian company
Even as a standard automatic masturbator provides endless variety
Can be synched to any porn video, both 2D and virtual reality
Use with VR porn has been claimed to be close to and even better than real sex
Very simple to clean

Final Review Rating and Verdict

An exciting new haptic masturbator that takes the VR porn experience to a whole new level. The best masturbator for synching with any kind of porn, it's also one of the best male sex toys for versatile solo masturbation.

Shop for The Handy at The Handy Store