A compact, open-ended version of the world's most popular male masturbator – the Fleshlight.
Fleshlight Quickshot Boost Compact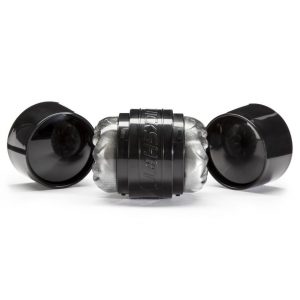 >>Shop for the Fleshlight Boost Compact at LoveHoney<<
Fleshlight arguably made their name by creating the world's first high quality portable and discreet male masturbator. Now they've set out to make something that's even more convenient to take on weekend hotel trips. The Fleshlight Quickshot Boost is a highly compact variation on their brand, with an open-ended design meaning it's a breeze to clean, while retaining the famous style casing.
The highly textured, ridged and nodule covered inner sleeve is as complex and satisfying as anything Fleshlight have produced. The texture design is asymetrical, so you get something of a different experience depending on which end you slide over your penis first.
That said, the very compact nature of the masturbator means it wont cover the length of your penis, so not so suitable for hands free penetrative masturbation.
Pros of the Fleshlight Quickshot Boost
The most compact and discreet Fleshlight yet!
Wonderfully easy to clean
Intricately nubbed and ridged inner sleeve chambers
The price – $39 for a Fleshlight!
Cons of the Fleshlight Quickshot Boost
Short in length
Final Review Verdict and Rating
Fleshlight have produced the ultimate compact and discreet travel handy male masturbator. 4/5