The Head Honch remains my favourite cheap masturbator, and in the latest version it got a one inch increase in size.
Sue Johanson Super Head Honcho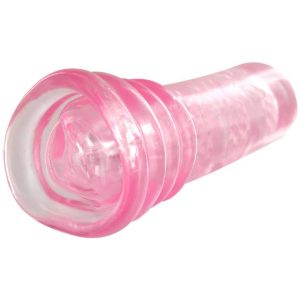 >>Shop for the Super Head Honcho at LoveHoney<<
The original Head Honcho was rightly acclaimed as the best cheap masturbator you could buy. Not only was it in the cheapest category, but it was as intricately textured (with suction chambers!) as a high end Tenga or Fleshlight. It also consisted of a rubbery, super stretchy material that simply felt great.
In response to public demand, Sue Johanson released this upgraded version, which quickly became even more popular with male sex toy users and reviwers as the original. Only $5 or so more expensive, and with an extra inch in length. Now with three suction chambers that will accomodate nearly every man, there is no better male masturbator out there at under $25.
Pros of the Super Head Honcho
Real feel material that is stretchy and snug, and feels great!
Three suction chambers with stimulating nubes
Open ended for easy cleaning
The best value male sex toy at this price!
Cons of the Super Head Honcho
Final Review Verdict and Rating
The Super Head Honcho is the best value male masturbator on the planet. An advanced yet simple male masturbator that does the job for half the price of most of its rivals! 5/5