Another exciting new addition to the variety of male masturbators appearing these days – a vibrating textured male stroker.
Mantric Vibrating Head Male Masturbator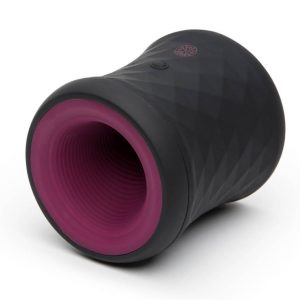 >>Shop for the Mantric at LoveHoney<<
It's always exciting when a new male sex toy appears that attempts to break the mould. There have been a lot of male vibrators appearing over the last few years, but the Mantric offers something new, as it consists of a textured sleeve that engulfs not only the penis head but quite a bit of the shaft too.
Of course, there have been many vibrating male sleeves in the past, but usually they consist simply of a bullet vibrator encased in a side of the sleeve. The Mantric is a much more advanced vibrator, with the entire circumfrance and length vibrating at six different speed and intensity settings.
The toy is waterproof and fully recharegeable, with a single charge lasting a good 100 minutes of play. Easy to clean too.
Pros of the Mantric Vibrating Masturbator
Ingenious design unlike most other male vibrators
Powerful vibrations with good variety of modes
Great prices for such a quality product
Easy to clean
Cons of the Mantric Vibrating Masturbator
Hole might be tight for some
Not the quietist male vibrator
Final Review Rating for the Mantric Masturbator
An ingenious new male vibrator that male sex toy fans have raved about. A pleasingly reasonable price too for a high quality product. It's not perfect, but for the novel design and satisfaction it gives, I'll award it a 5/5